anti-static
Systems
anti-static blowing devices
S SERIES: AC anti-static blowing devices
Anti-static anti-shock blowing systems to reduce or eliminate the electrostatic charges that naturally form on the insulating materials due to rubbing and separating during the industrial processes of extrusion, labelling, screen printing, engraving, weaving / textile, unwinding/winding, laminating, etc.
These charges can reach extremely high levels, and it is essential to reduce them in order to avoid compromising production quality, times, and costs, as well as to ensure the operators' safety.
Each system consists of one or more anti-static emitters and a dedicated TA.5 power supply.
The Cason anti-shock anti-static devices are robust, easy to install, and require little maintenance.
Air blowers:
• Anti-static blowing devices are suitable for long distance applications and/or small or irregularly shaped objects.
By blasting the ionising tips with a stream of air, it is possible to convey their effect over greater distances, achieve greater yields, or direct their effect towards the material to be neutralised with greater precision.
The air flow also has a partial cleansing effect on the target surface and on the device itself, thus reducing dust accumulation.
Anti-shock:
• Under normal operating conditions, anti-static devices with anti-shock technology don't have any parts directly connected to high voltage exposed to contact, and are therefore intrinsically safe for the operator, and do not need to be installed in segregated areas.
Experience, know-how and product range:
• Our decades of experience and diverse product range allow us to help our customers choose the anti-static devices most suitable for their specific applications, which is an extremely important factor in the anti-static field.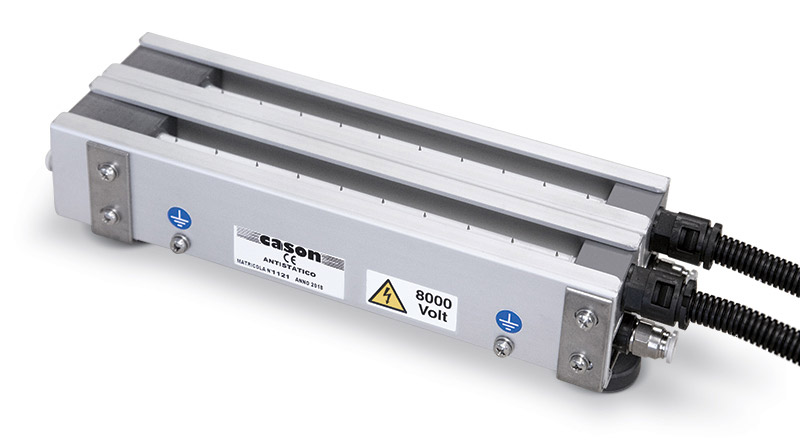 TECHNICAL SPECIFICATIONS
Focus
1) High performance
2) Robust structure, suitable for long widths
3) Air blowers to reach greater working distances
Emitter tips
2 rows
Electrostatic charges
High / medium-high
Anti-static effect distance
Range 10…400 mm, Top 40…100 mm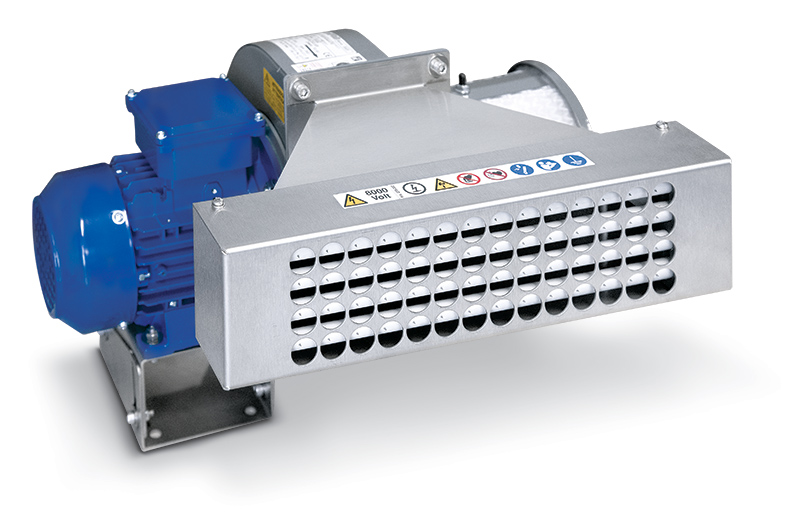 TECHNICAL SPECIFICATIONS
Focus
1) Anti-static blowing device ideal for winders
2) High performance
3) Equipped with a centrifugal fan
Emitter tips
4 rows of 14 tips
Electrostatic charges
High / medium-high
Anti-static effect distance
300…1500 mm, Top based on the width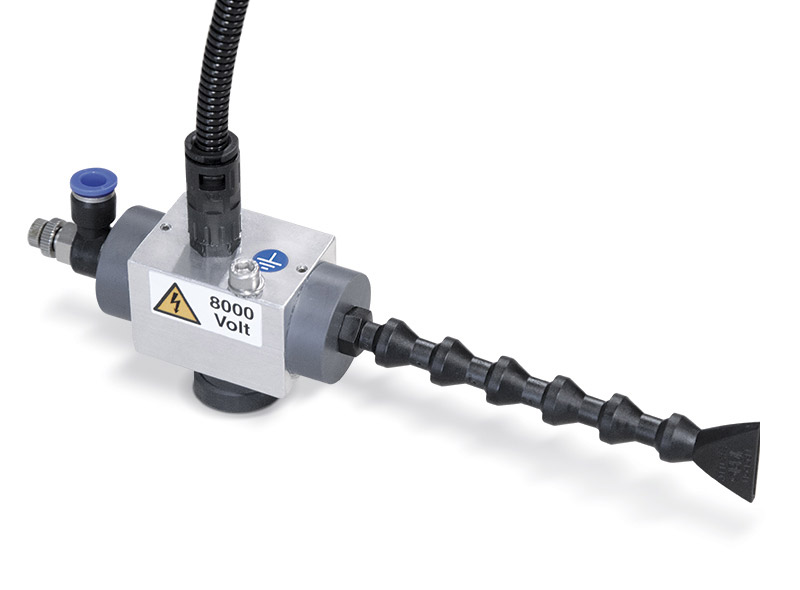 TECHNICAL SPECIFICATIONS
Focus
1) Anti-static blowing device for labellers and small objects
2) High performance
3) Ionised air blower outlet nozzle rotatable at 360° and able to be directed towards the object via a jointed connecting tube
Emitter tips
1 emitter tip connected directly to high voltage (segregated and not accessible to the operator)
Electrostatic charges
High / medium-high
Anti-static effect distance
10…60 mm